Blowout Satellites
We Put Satellites in Orbit to Navigate the Earth. Meanwhile, It Has Never Been Harder to Navigate the Stars.
Another Sunday, Another Naive Weekly - Observations From The Internet Wilderness.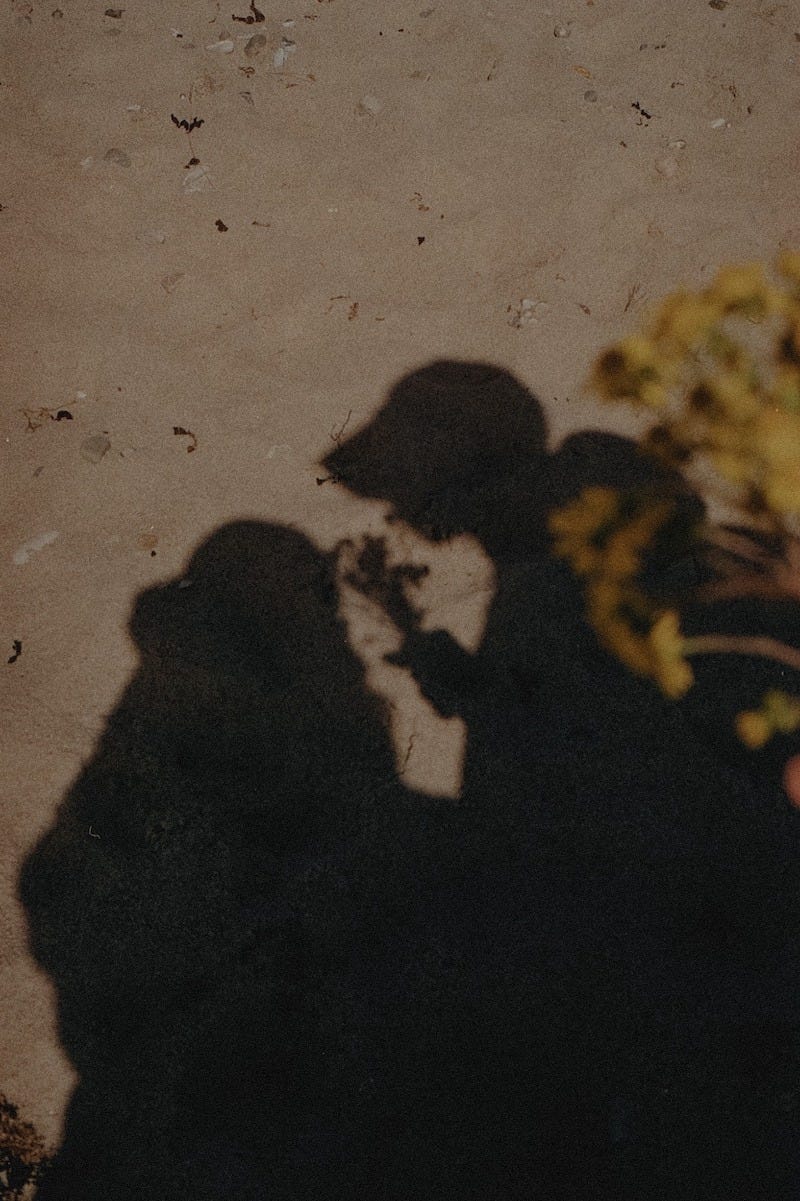 Happy birthday, Kristoffer!
Today it is August 9, today it is my birthday. As a kid my birthday cake had the same number of candles as my age. Now I am turning 33 so there is no longer space enough to fit the same number of candles as my age on the cake. But that hasn't stopped me from loving candles.
Candles are like stars on Earth. Their warm rhythmic light soothes me. Where stars allow humans to look the furthest possible and navigate across oceans, candles create space for looking deep inside ourselves and have vulnerable conversations. Even during the long evenings of the Copenhagen summer, Ana and I manage to burn our fair share of candles.
Whenever I blow out the candles on my birthday cake I make a wish. Just like I do when I watch a shooting star. I have a superstitious tendency, so I am not sharing my birthday wish with you. But maybe you can guess it from the photo below if you are a regular reader.
With care,
Kristoffer
---
VISUALLY DISTURBING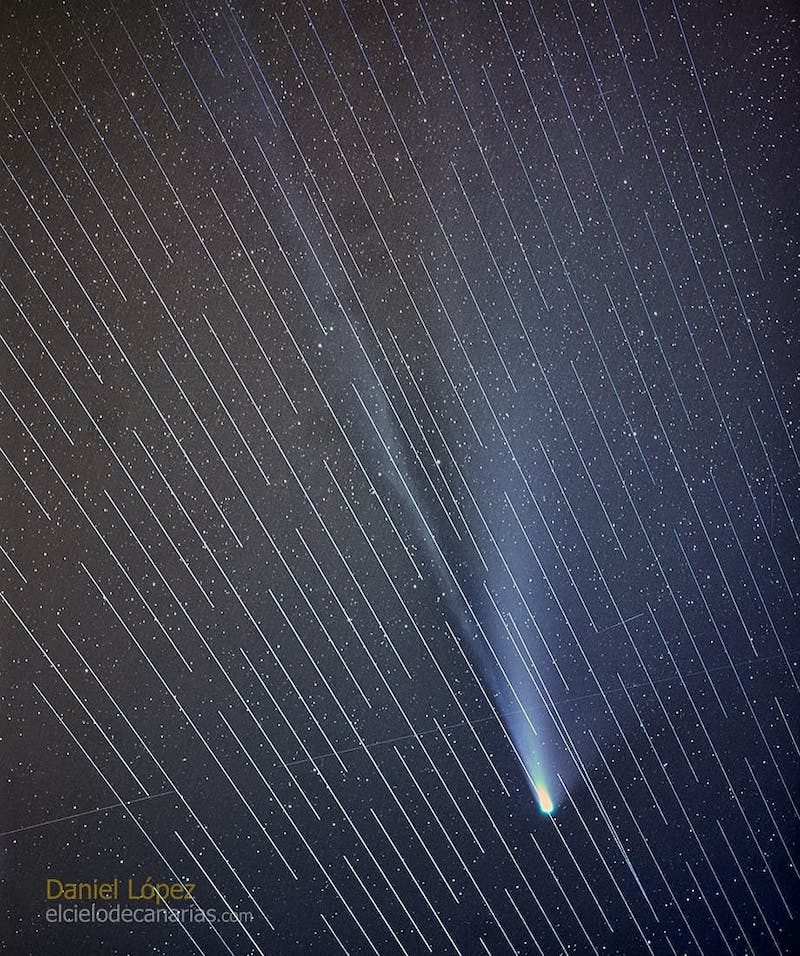 ---
READER INTERVIEW
Monique Schröder has roots at SPACE10, Kinfolk, Soulland and Sindroms Magazine. When I read her beautiful Instagram post reflecting on our online performances, I knew I would interview her. Make sure to check her Tumblr and Are.na and congratulate her on joining Studio David Thulstrup.
K: What question would you ask a tree?
Monique: How many times have you seen history repeat itself—and how should we move forward from here?
K: What was one rabbit hole you recently fell into?
Monique: I fall into rabbit holes on a weekly basis. I know that's a lame and obvious thing to state but it's a fairly accurate description of my mind. If I were to describe my mind it would probably look like a never-ending Tetris game. Fast-paced tiles trying to somehow fit into a tight-knit structure resonates with how I feel when I finally let myself surrender to my thoughts. Sometimes it's only a matter of seconds until I face game over; sometimes I catch rocket after rocket.
Lately, I have been thinking a lot about how the (sometimes unconscious or engrained) choice of our words can affect the people around us. It's not a new concept but I was reminded of it again by Kübra Gümüşay, a journalist who recently published a book about the power of language—and how it influences our way of being. In a world that divides and—sadly—dismisses people according to their language, how can we, as a society, re-learn to speak to each other again in a human way? I know it's only a symptom of a larger systemic problem but instead of thinking about how we can escape everything here and set up a life on Mars, let's go back to the roots and start with the architecture of our language.
K: How do you think about time?
Monique: Time is a funny thing. It's something that you can measure—but also not. Sometimes, the most meaningful things in life only last for a split second, and other, long periods of time seem pretty meaningless. So, how should one go about time? And how do you spot a moment that you want to cherish forever while it's happening?
Living in the now is not something I ever mastered, so naturally I feel nostalgic about time. The little things that later on turned into long-lasting memories feel abstract yet very present when I think about them. I am fortunate to live in a time where we can snap away with our phones all day and look back at what we experienced when the moment has already passed.
K: Where do you go to get lost?
Monique: I love the way this question is phrased. To me, this year has been all about actively seeking to get lost. Not being able to go anywhere has forced me to look closer, and discover what's already around me. I feel privileged to be able to do so—in a time where everyone is experiencing a roller coaster of emotions and hardship.
This year—more than ever—I have appreciated nature and it's abundance. I traveled to India earlier this year and it was one of those eye-opening moments. It almost seems stupid when I say (*type*) it out loud but I was fascinated by the way people approach food. For the first time in my life, I was questioning why I would place a piece of metal between my mouth and the food I am eating. It motivated me to be more connected to nature. Specifically, I want to learn more about herbs, how to turn them into oils and make use of what's right in front of me already.
K: What is your most frequently used emoji?
Monique: There are a lot of situations in my life that make me doubt my emoji use: am I being unprofessional, too cryptic (aka too many vague emojis in one message), or simply annoying? It's an interesting observation—and one that I haven't been able to crack just yet.
Right now I am really into the 💠 diamond with a dot 💠 that I discovered randomly. It's an adaptation of the 💎 gemstone 💎 that I pretty much use for everything. It might be linked to my fascination for rocks and crystals; it might also just be its distinct aquamarine colour that I'm drawn to. Fun fact: natural aquamarine stones are apparently soothing for my zodiac (my sun is in Gemini)—I guess you can call it full circle? Oh, let's also not forget this combination: ♥️😭♥️. I use it for anything dog-related on Instagram. I am at that point in my life where my friends send me dog memes, live footage of dogs in Copenhagen or recommend which dog accounts to follow. I absolutely love it.
K: What would you love to sell that no one wants to buy?
Monique: Unsolicited advice! I always feel like I give the best advice when no one is asking for it, ha. Does anybody else feel that way?
---
ROADSIDE FLOWERS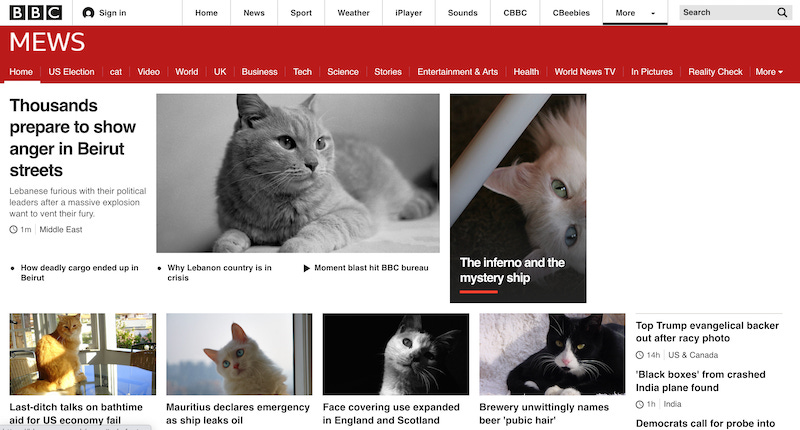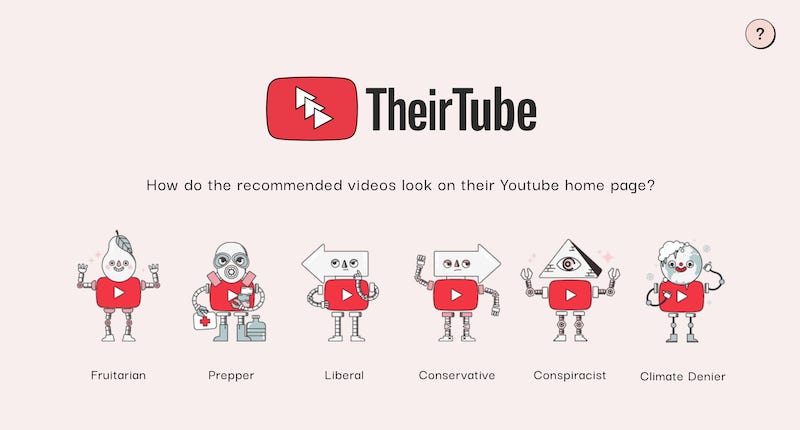 Learn how YouTube looks to different people.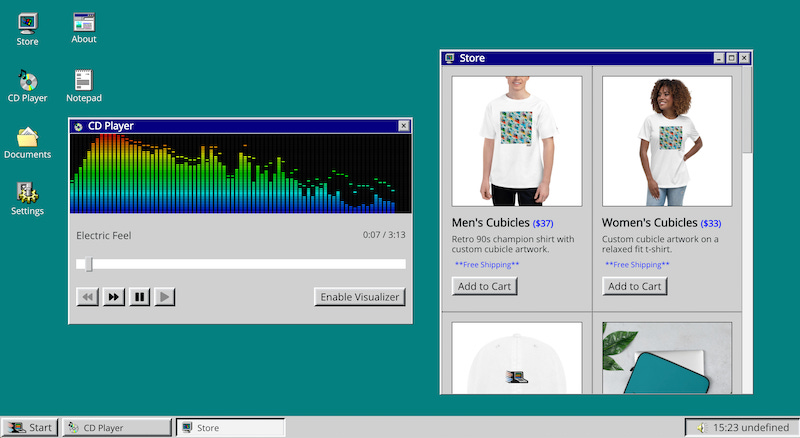 Poolside.fm for office slaves.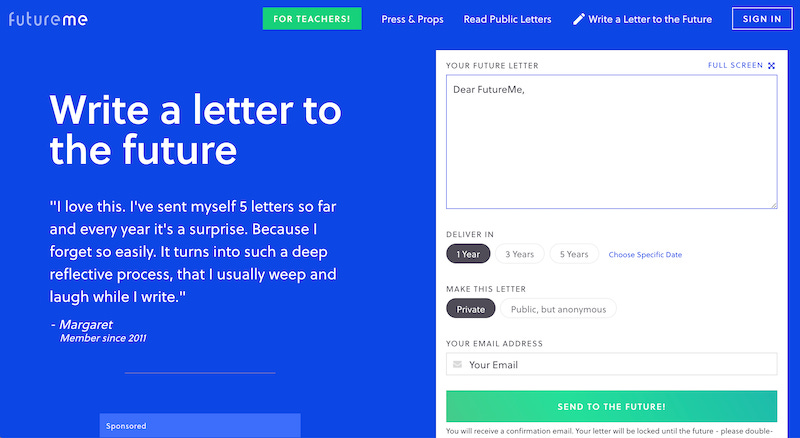 Write a letter to your future self.
---
INTERNET STORIES
Why SpaceX Wants a Tiny Texas Neighborhood So Badly

This is one of those articles I read and I still can't get out of my head four months later. It is the story of a small, relaxed town in Texas which faith SpaceX changed without asking for permission. Every time we gaze at rockets sent into space, others have their rest destroyed.

The UX of LEGO Interface Panels

Learn the basic of interface design through LEGO. This is a beautiful follow-up post to the photo of LEGO Interfaces I posted a few weeks ago. I lost most of my childhood to LEGO so I am happy whenever I can count the time as studying.

Magnasanti: The Largest and Most Terrifying SimCity

There is no such place as the Internet for humans being crazy. By excluding roads and ignoring air pollution one person managed to maximize SimCity to the fullest. I am equally enthusiastic and scared. Scared because around the world policymakers are using similar models to plan urban development.
---
INTERNETMEZZO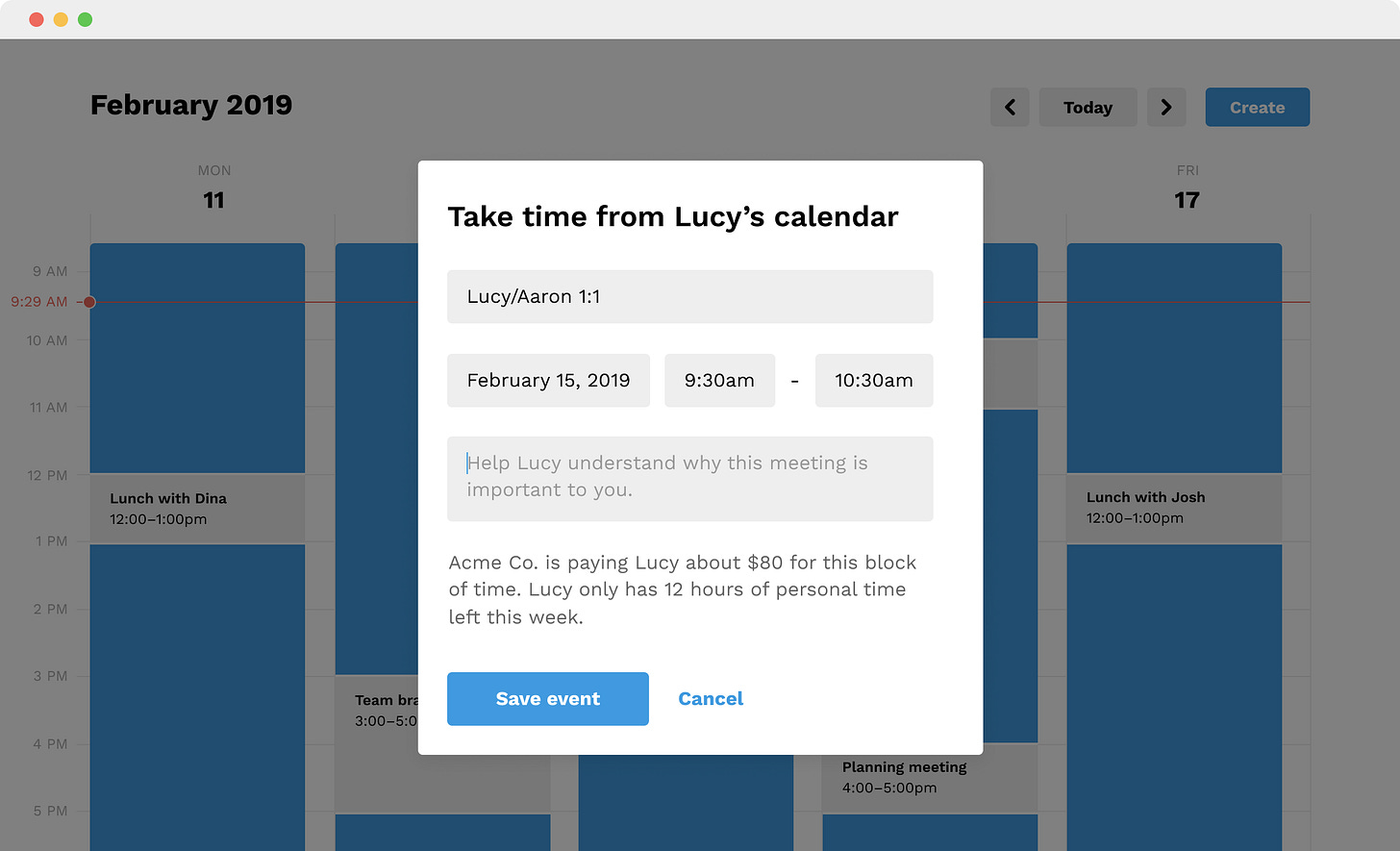 "Digital calendars misrepresent the default state of your time. It's far from empty. You're working, thinking, talking, problem-solving, Being. Blankness shouldn't be an invitation to interrupt. It's yours, it's sacred! But when someone sets up a meeting with you, the calendar app never makes them feel like they're taking something away from you. The UX is additive, rather than reductive. We're always 'putting time on' calendars, never 'taking it off.'" — Aaron Lewis.
---
Naive Weekly
Hi, I'm Kristoffer and you have just read Naive Weekly - Observations from the Internet Wilderness.
Last week this newsletter was sent to 619 people. Twenty-seven people are crazy enough to chip in every month/year to support me making time to write this newsletter: Nikolaj, Lars, Ditte, Jakob, Antal, Cecilie, Søren, Dries, Tina, Gautier, Sarper, Maarten, Mystery, Joshua, Thomas, Mikkel, Aydo, Lukas, Hans, Vibe Johanne, Csongor, Dad, Ida Marie, Yinka, Stine, Troels & Angela!
Photograph by Ana Santl.
<3
Kristoffer